Dog Bite Prevention Presentation
Dog bite occurrences have been steadily increasing year on year with a 50% increase recorded between 1998 and 2013. Almost half of the bites recorded in this time period were received by children under the age of 10.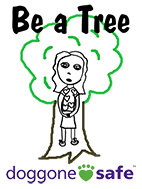 The Be a Tree Program is a fun, interactive presentation designed to teach children how to read dog body language and how to interact safely with dogs. The program is administered by Doggone Safe a US based organisation who aim to educate children, families and dog owners on dog body language and how to act safely around dogs to prevent dog bites. The program is backed by numerous veterinary councils including; The Ontario Veterinary Medical Association, the Canadian Association of Animal Health Technologists and Technicians, the Saskatchewan Association of Veterinary Technologists, the Saskatchewan Veterinary Medical Association and the Ontario Association of Veterinary Technicians.
The presentation is aimed predominantly at primary school aged children, but is equally relevant to teens and adults interested in learning more about dog body language and bite prevention.
Stephen is a licensed Be A Tree presenter and Doggone Safe member, is Garda Vetted and currently also works in a school.